Pre/vedere
Team building project by Filippo Riniolo
Pre/vedere –
Team building project
Here at Nashira Gallery was a workshop held by artist Filippo Riniolo for the company Teeth and Health.
The artist sought to provide the company's employees with the tools to identify their role and identity, and he did so through art, through lateral thinking.
It was a corporate process in its own right, only pursued through means other than the usual ones.
The project also had a "team building" effect because creating together produces affinity and group, but it is profoundly different from spending any playful time together; it is working in tune in a radically different way.
The experience was intense and formative, both for the employees and for me who hosted it.
With the hope that it can be repeated with other companies.
Concept
Tiresia, Calcante, Cassandra, the Iliad and the Nostoi of ancient Greece are full of clairvoyants. Seeing and predicting the future is essential. A fundamental human need. Why isn't the clairvoyant the king? Or the queen? Or a warrior? The figure of the seer needs distance from power, which is the ontological present, to look beyond.
Representing Tiresia, Calcante or Cassandra in the day of considering them more as men of science than as magicians. Just as alchemists are the prodrome of chemistry. People who read the present with lateral thinking, who study reality and its processes and formulate hypotheses about the future. The clairvoyant of 3200 years ago announces defeat because he sees the present better than the powerful of the moment. The rulers of every era, instead of changing themselves, try to change the clairvoyants by accusing them. History tells us they are wrong.
So why can science be interested in searching for one's roots? Because scientific disciplines have an extremely profound meaning in society, they are the institution to which the whole world referred during the pandemic (in past catastrophes it was the Church) but they have been protagonists of thought at least since the Second World War. They open up great questions of a philosophical nature, from the atomic bomb to gestation for others. Due to their importance, they need a genealogy, knowing where we come from helps us understand where we will go.
Science, like clairvoyants, does not always tell the truth, but gives reliable hypotheses. Scientific models have the characteristic of being able to be constantly verified through their own scientific method and not with improvised notions. This destabilizes us. Religion affirms ontological, dogmatic and unchangeable truths. Science doesn't.
A workshop of scientists and doctors on clairvoyants aims to bring out those roots and identities that have always been present. To reconstruct a past to make a present clearer.
This workshop focuses on focusing on corporate identity and purpose through an artistic practice, or lateral thinking. It's fun but it's not a game, it's a full-fledged business process, only pursued with other means to create a real and effective team building.
Being able to determine and focus on the why and the meaning of one's work is at the heart of team building, because not everyone has to be friends, but everyone must clearly feel the sense of what they are doing together.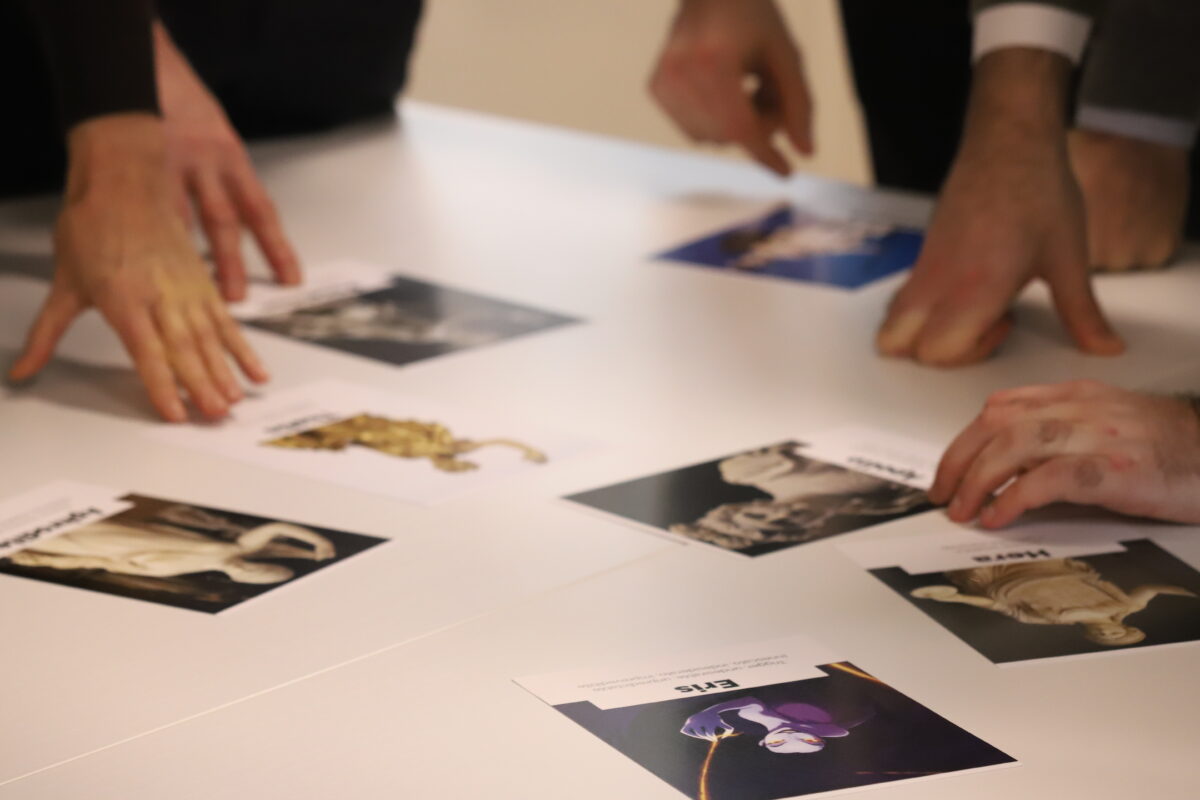 It all starts with a poem
The Odyssey and the other Nostoi have survived 500 years of Dark Ages since the Bronze Age. The events of 1200 B.C. they went through 500 years of collapse of civilizations to re-emerge as founding texts of Hellenic culture (unfortunately other Nostoi, such as that of Agamennone, have been lost).
We have to imagine these texts as a form of the Bible or sacred texts and identity of a people. Even the Roman Empire felt the need to have a poem as a founding element starting from Troy and from that story. He was absolutely aware that an army was not enough, a poem was needed to create a people. And Virgil wrote the Eneide precisely to bring about this change. Our country too obviously has its own founding poem, which is Dante's Divine Comedy, which it is no coincidence that Virgil takes as its teacher. Because the poem always starts from the foundation of a new civilization.
Today we try to write a poem, as an exercise in writing a new civilization, and as then, as always, we begin where it all began: the Trojan War.