400 Drawings
From 09.21.2023 to 10.27.2023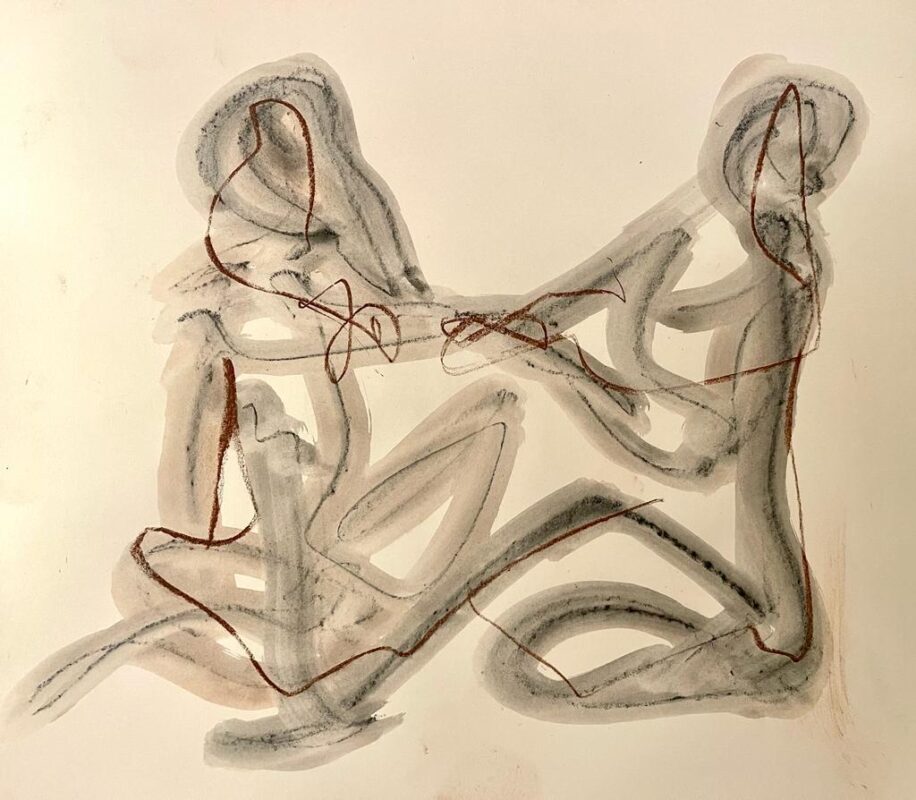 This exhibition is an important stage (certainly not the point of arrival) of the artistic research begun ten years ago by Claudia Piscitelli.
A path that began with the teachings of the artist
Meriel Gold
that allowed her to add, to her already original way of telling reality through "free" drawing, the "feeling", particularly in the practice of drawing/painting from life people. Thus was born the series of
"Soul Portraits,"
the subject of an exhibition at the Mazarin Variations gallery in Paris in 2017. In the past two years, a new encounter with artist Morag Donnelly, also a student of Meriel Gold, who con- duces study groups and workshops in England called "life sensing" has led to a new evolution in the artist's re- search. An even greater deconstruction of formal drawing, including through the use of unconventional tools and materials, and an even greater connection and closeness to the subjects depicted. And it was through this that drawing became like music with eyes closed and the 400 drawings in the exhibition were born.
Claudia Piscitelli (Naples 1965). Lives and works in Naples.
Major exhibitions: 2022-2023: We are all Gods, Burghouse Hampstead Museum, London; 2019: Nyss Alumni show. London; All the World's Dreams. Fct Universidade Nova de Lisboa. Lisbon; 2018: Talk to me – Mural painting. Nisida Prison. Naples; 2017: Hokusai Life colored, New York Studio School Gallery, New York; 2016: Nothing is stable, Burghouse, Hampstead Museum, London; Nothing is stable, Garden Room, Non-Catholic Cemetery, Rome; 2015: Hunting Vico's paintings – Pio Monte della Misericordia – Naples; 2014: Sweet Thames runs softly, – The Waste Land Tri- logy, Duke's Head Putney, London; 2013: Constellations of Drawings, Villa Lucia, Naples; Life Still and in motion, New York Studio School, New York; 2012: Inexploration, Dynamic Museum of Brick and Earthenware, Marsciano (PG).
Claudia Piscitelli, 400 Drawings, installation view, 2023