Nascosti alla luce del sole
From 09.21.2023 to 10.27.2023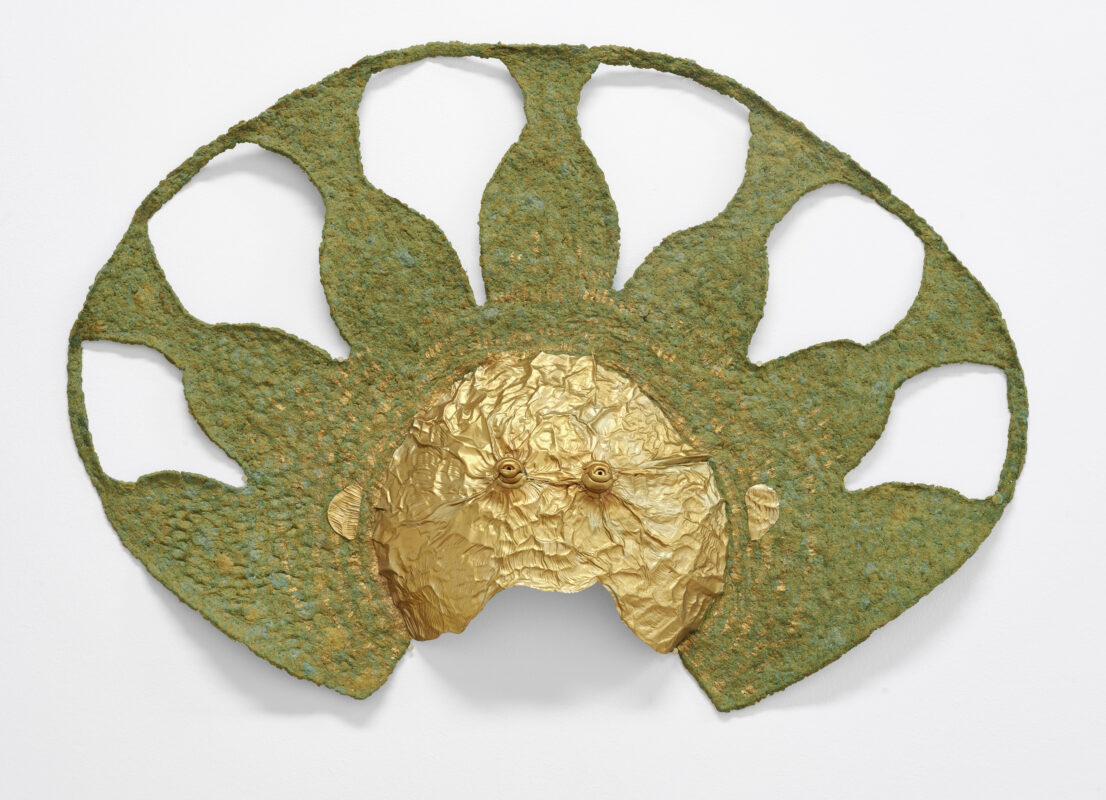 Fans of movies, mystery books, or thrillers know well how often the place to hide the most compromising evidence is "out in the open," where anyone can see it without noticing it. Since the Paleolithic period, humans have used masks: with mud the first hominids who covered their faces to camouflage themselves in the act of hunting; African and South American animist cultures to converse directly with spirits and deities; Greek actors with clay, up to the still-current tradition of masks in Noh theater; in Christian-Catholic culture to indulge in entertainment and leisure before the restrictions of the Lenten period: Punchinello, Harlequin, Pantalone, Columbine in the commedia dell'arte tradition.  
To this powerful theme we at Nashira Gallery decided to dedicate our second group show and with it present a preview of the artists we will be hosting in our spaces with a series of solo exhibitions in the coming months.
Ako Atikossie (Zalivé, 1980), an artist originally from Togo but resident in Italy for many years, reflects in his works on the natural and scientific laws that govern the world and the cosmos, attempting to give them form and representation, shaping signs and hatches representing the forces that make us part of a whole, such as Conjecture of Space-Time (2023), inspired by one of the most recent scientific theories, the "Theory of Everything."
Inspired by the mythological figure of Janus Two-Faced, the work of Zadok Ben-David (Beihan, 1949), a Yemeni but adopted Londoner, also has two faces and two points of view. A sculpture taken by the artist from his vision, during a festival in Quito, Ecuador, of one of the traditional costumes worn by the people:Aya Uma, a figure within the Andean conception of the world and the universe.
A sun is certainly reminiscent of the bas-relief Mask of 2022 from the Catching Suns series by Maria Positano (Naples, 1995), inspired by the tradition of funerary masks and in particular that of Agamemnon found in Mycenae and now preserved in the National Archaeological Museum in Athens. Created for the purpose of passing on the features of prominent figures, the masks were often made of precious materials, such as precisely Agamemnon's in gold foil. Positano reproduces the same preciousness here using poor and recycled materials instead.
The transmutation of salvaged materials to give life to new relics, fetishes, simulacra and totems unites Maria Positano's research with Emanuele Resce (Benevento, 1987) but with different results. In her works: stones, woods, teeth of various animals and clay become the elements around which to aggregate bicycle inner tubes, used cans and containers, pieces of sheet metal, spray paint. Materials that the artist reworks and assembles to create contemporary deities, wild almost alien to try to bring together natural and artificial in one universe.
The change of form, metamorphosis, is a theme as old as that of the mask. Alik Cavaliere (Rome, 1926 – Milan, 1998) dedicated many of his works precisely to the theme of metamorphosis. From the series Forbidden Games – Metamorphosis, an anthropomorphic figure seems to stretch an arm upward, the hand swelling to resemble the branches of a tree: a transmutation that cannot fail to recall the legend of Apollo and Daphne made immortal by Ovid in his famous Metamorphoses.
Knights are the subjects represented in his paintings by American artist Sebastian Thomas (Fayette, Arkansas, 1994). The artist takes up technically and iconographically the miniatures of medieval incunabula appropriating them and renewing their topicality with chivalric subjects, demonstrating how the mask object has traversed human history with multiple functionalities. 
As with its first group show titled "Profezia," Nashira Gallery has selected a number of works from Collezione 54 for this occasion to create a game of cross-references and dialogues between artists of different cultures and generations. Collezione 54 is an important private collection of contemporary art based in Milan that has focused its attention on the artistic production of the African Continent for about thirty years.
Among the works on display you will be able to find: the photograph Tipo Passe (Diana S. Sakulombo) by Angolan Chagas Edson (Luanda, 1977) an ancient African mask is worn over clothes of an elegant and classical formality giving life to an unusual character going to represent the relationship between African tradition and a country now partially "westernized," in which new canons of beauty and representation have now appeared. Emo De Medeiros (Cotonou, Benin, 1979), is a multidisciplinary artist who investigates the issues of post-colonialism and multiculturalism from a science fiction perspective by creating, as for example with Zangbeta, costumes reminiscent of the continent's traditional ones but re-actualized with artificial materials and robotic parts: science fiction-African. A woman with a painted face and body sits at a table set with an orange tablecloth, at her feet an animal, dog or cat wears the mask of a sphinx. This is the subject of the painting by Kelechi Charles Nwaneri (Lagos, 1994), a very young artist who creates surreal works in which he mixes elements drawn from tradition with subjects and objects drawn from the contemporary world, visual reflections on integration and globalization.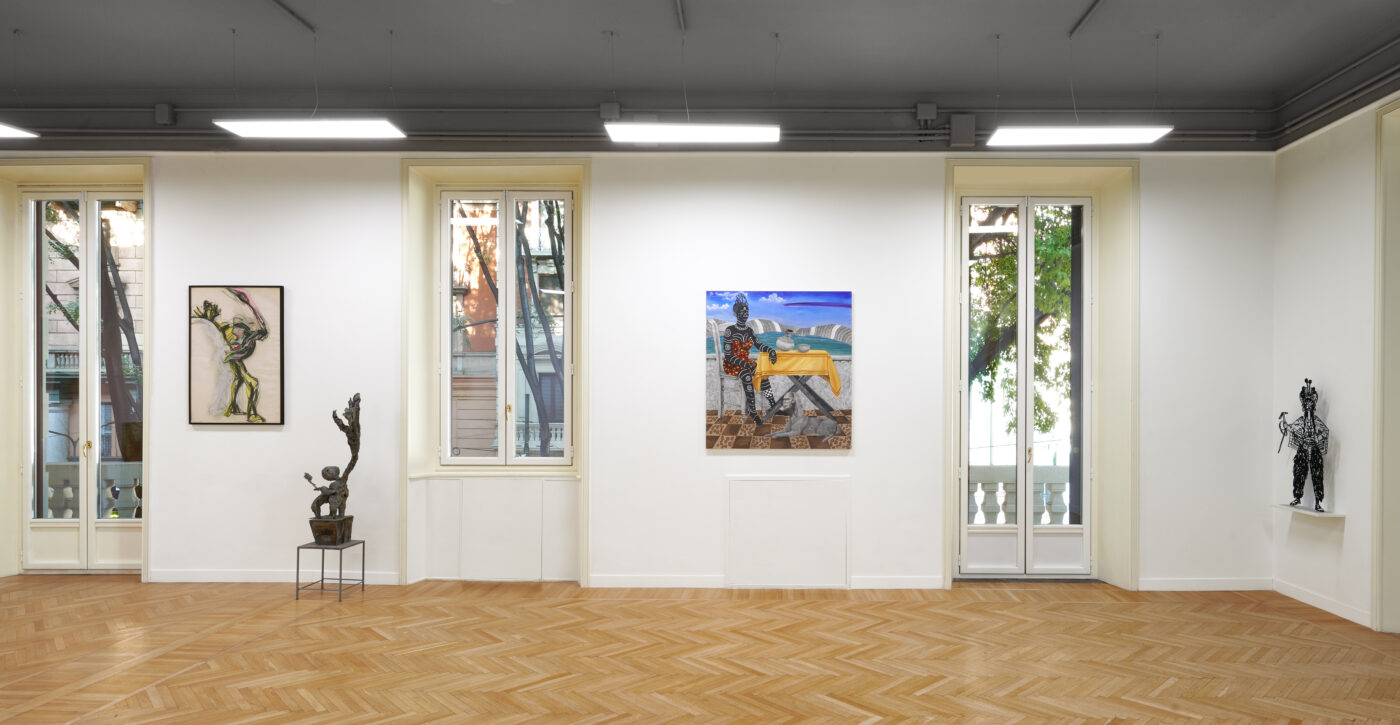 Nascosti alla luce del sole, installation view, 2023