ArtVerona
from 10.13.2023 to 10.15.2023
LIFE GOES ON EVEN IF EVERYTHING ENDS
ARCHETYPE
Fire is such a complex archetype that it would be impossible to read an unambiguous meaning into it. What is undoubted is that there is a need for objective conditions for the fire to break out: the temperature must be very high and the air to become so heavy as to be unbreathable. This incompatibility with natural life brings with it a swirling that leaves us astonished.
Fire is an action, an ancestral symbol and the beginning of civilization, but it also exists in a more intimate dimension, as a habit. After all, we carry it in our pockets and exchange it naturally in lighting a cigarette, deluding ourselves that the primitive and magical aspect has been overcome by the practical and functional one. But if everything burned and we positioned ourselves in and behind the fire, what would happen? If new ecologies came out of the heat, how would we react?
PROLOGUE
D. 34. In what does their death consist?
R. Life and death are the same principle for them, in that they also die by fire, but it is
Of a fire of fusion.
(The fire of fusion is that of the stake of Hercules, where individuality merges into the Whole, within which it has
affirmed its autonomy.) […]"1
FIRE: DESTRUCTION / NEW LIFE
Maria Positano and Andreas Zampella recreate for the ArtVerona booth a magical, destructive and regenerative place within which everything becomes possible, remaining poised between dream and reality, nightmare and desire, primordial and actual. The position of the works hints at a narrative that has neither a beginning nor an end: before, during and after are mixed and united in a single fluid solution, connected with eternity, that does not take into account any physiological law to which we, instead, are constrained. Fixed in its perfect moment, coinciding with absolute time, calendar chronology is thus abolished. A new, plausible and desirable possibility resurfaces: new life, new nature, new destiny, new scenery on which to play an unprecedented and chimerical part.
The materials of the works here are all vehicles of heat, and fire is their common denominator. Positano's works (Vessel in Green II, Vessel in Green III, 2023), floating in the middle of the room, tell of a new (beneficial) organism able to emerge from the ashes of a fire. They, resembling cinerary vessels or urns-which contain ashes where rebirth is truly possible-tell of a new life, different and unprecedented. In contrast, the fire staged by Zampella (Look from the Fire, 2023) is the incipit of the narrative and, at the same time, its climax. The before and after merge into one: are we facing something that is being born from (and thanks to) fire, or are we witnessing the gradual cessation of existence? We stand in awe as we watch history shatter and reassemble. Death and life – and their not openly revealing themselves – give way to a long shiver down the spine, hot with excitement or icy child of fear.
Such crisis of the viewer is given by the very ambiguity of reality, which in the works of the two artists is resolved and postponed until proven otherwise. A narrative made of possibilities, almost always opposing, poised: what burns, at this specific juncture, will perhaps be swept away or serve for something else. What remains is ash, this is undoubted, falling to the ground and transforming into new forms. Matter burns, adapts and struggles to regenerate itself, poised between something that can no longer live and something that must continue to be.
Moreover, an ancestral relationship with matter is present in the two artists' production. Zampella works the earth, uses it as if it were a pigment, hybridizes it and makes it iridescent. Clay itself is transformed precisely thanks to fire, taking on a new form that preserves within it the earthy seed. Positano, on the other hand, modifies the material and undermines it. What appears to be metal is actually paper or a material far removed from what we thought it was: in nature, weight, quality and preservation. Fabrics become tails of jellyfish or other animals with soft, attractive coats. Gilded and lacquered surfaces deceive us, hiding a deeper and more enigmatic truth. The desire to exhaust matter-and our beliefs-coincides with the oxymoron on which the entire exhibition rests: art is doubt, never answer.
EPILOGUE
The fire has spread, from ceiling to sockets, from pockets to heads. Flowers are in the air, watching over the scene (or us). Amulets are alone warming, perhaps too much, an atmosphere already incompatible with life. Everything is placed on an upturned stage: that of life and art, where fiction and reality are inextricably mixed.
The story-personal or global-can begin anew: fire that burns and fire that burns, to you the continuation of the narrative. Flowers, shields and amulets, protect us or hearten us: life goes on even if everything ends.
Francesca Disconzi
Federico Palumbo
1 O. Wirth, Il simbolismo ermetico nei suoi rapporti con l'Alchimia e la Massoneria, Edizioni mediterranee, Roma (2009), p. 140
ARTISTS BIOGRAPHIES
Maria Positano (Naples, 1995)
Maria Positano interweaves concepts of subjective world construction and collective narrative production, combining stories and materials to enrich multifaceted notions of her own cultural belonging. Her work speculates and pretends ethnographic stories; drawing on her own nomadic upbringing, the artist constructs a multidisciplinary practice. Her current work stems from an interest in armor and defense strategies: thinking about embodiment, vulnerability, and transnational ecologies allows the artist to restructure ideas of resilience and political resistance. By combining Greco-Roman, pan-cultural, and polygenic armor/sculptures, the artist is interested in expanding dominant ideas of heritage and identity, while existing historical references are loosely contextualized in the work's texture.
Andreas Zampella (Salerno, 1989)
All the elements of Andreas Zampella's work are composed as in a play: the painting is the setting for actions and non-actions, a metaphor for the viewer; the utensils and sculptures the props, whose meaning changes, is discovered in space; the objects containing raw meat and the "machines," the main actors, who, freezing movement in power, or reiterating it in a senseless way, live a condition of continuous action, as abscesses of performance art. With these guidelines, his work investigates the relationship between reality and representation in society, admitting the failure of communication in contemporaneity. Like half-open thresholds or ushers, his works oscillate in conditions on the borderline between fatigue and anxiety, lament and accusation, obligation and boredom, individual and collectivity, and do so indolently, hypocritically, in the full paradox of reality.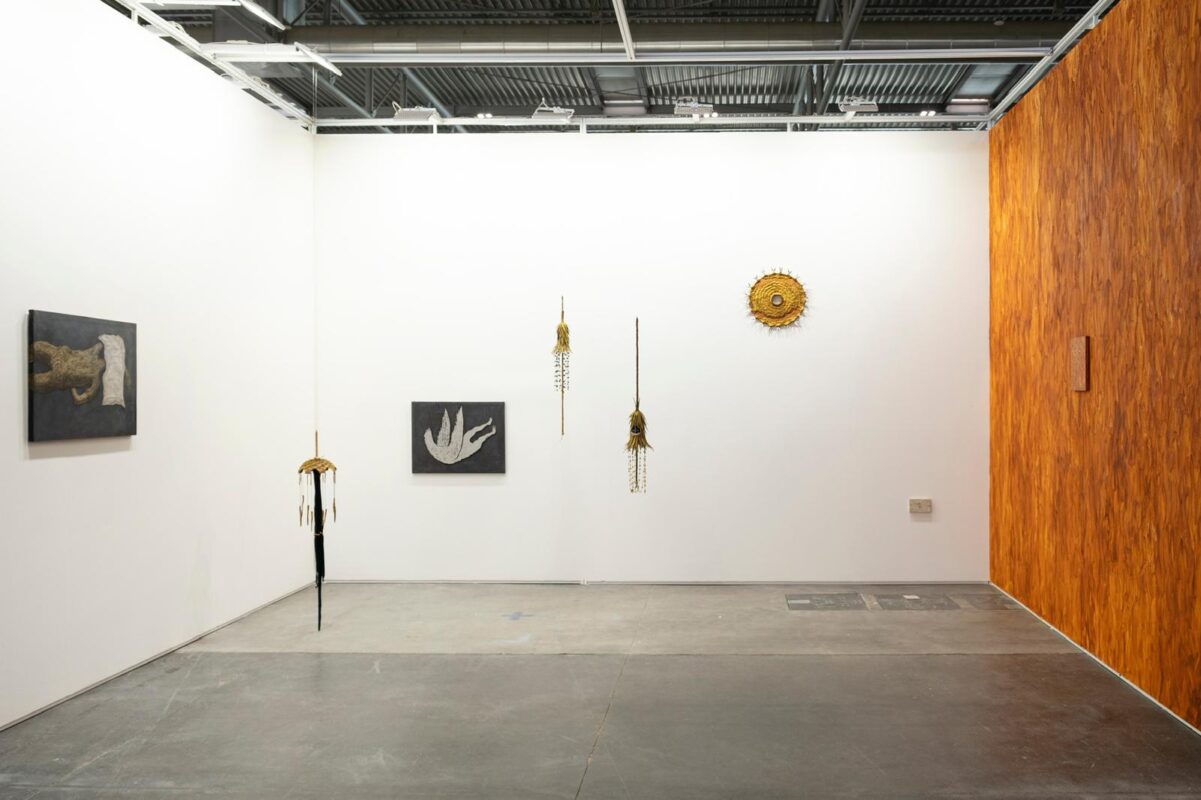 ArtVerona 2023, pavilion 12, stand CB4, section "Curated By", installation view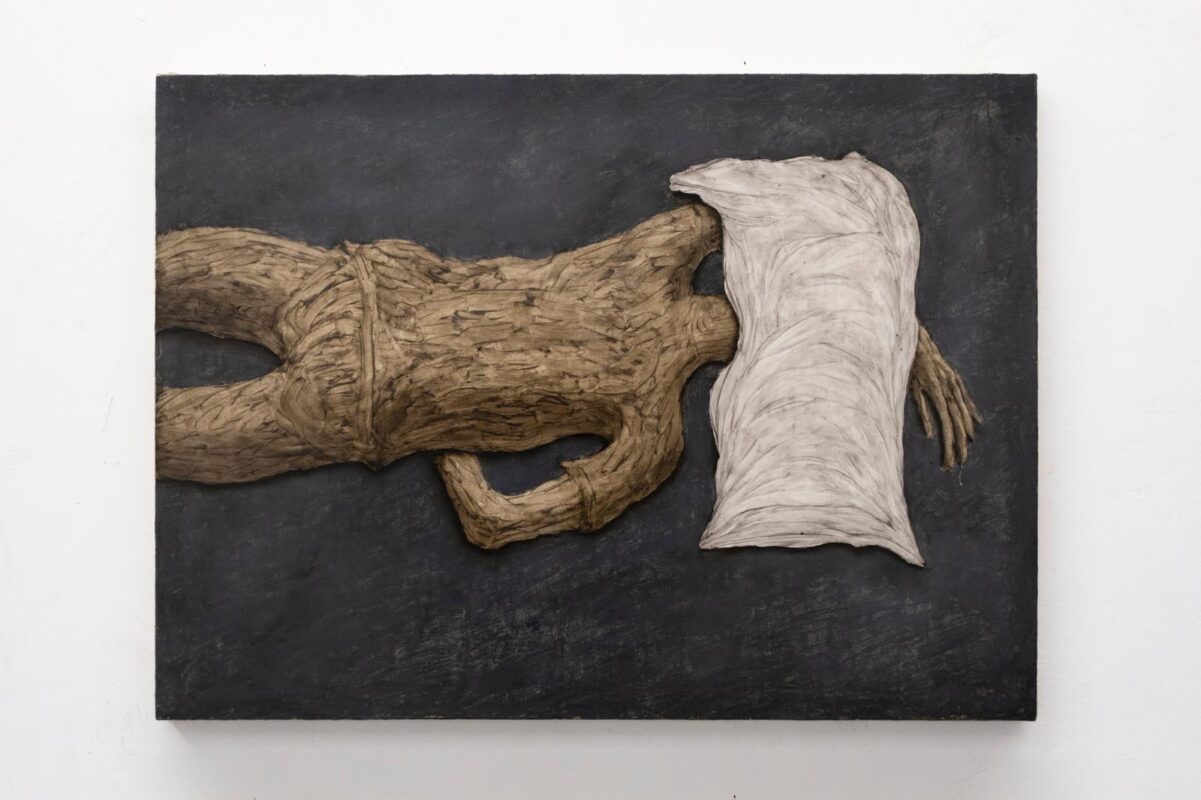 Andreas Zampella, Sotto al cuscino, 2023
clay, oil and enamel on canvas, 80,5×59 cm
Winner of the A Disposizione Veronafiere Award for art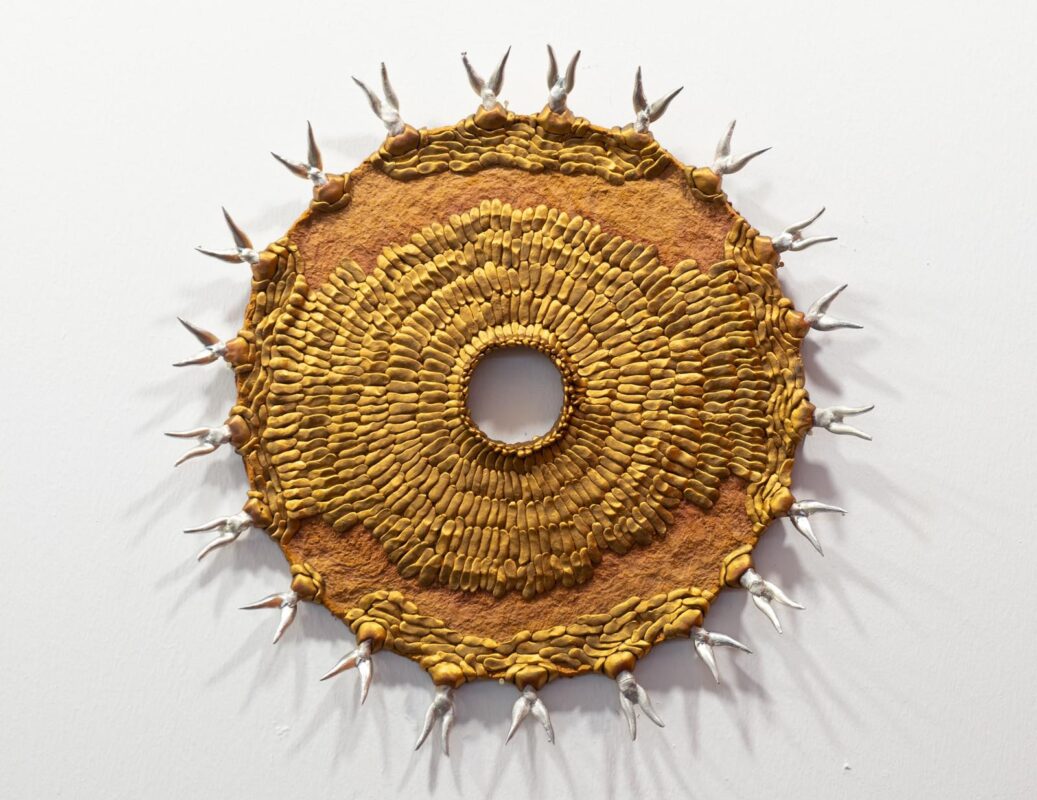 Maria Positano, Sun disk, 2023
paper clay, food dye,epoxy putty, restoration wax, pewter casts, 43×43 cm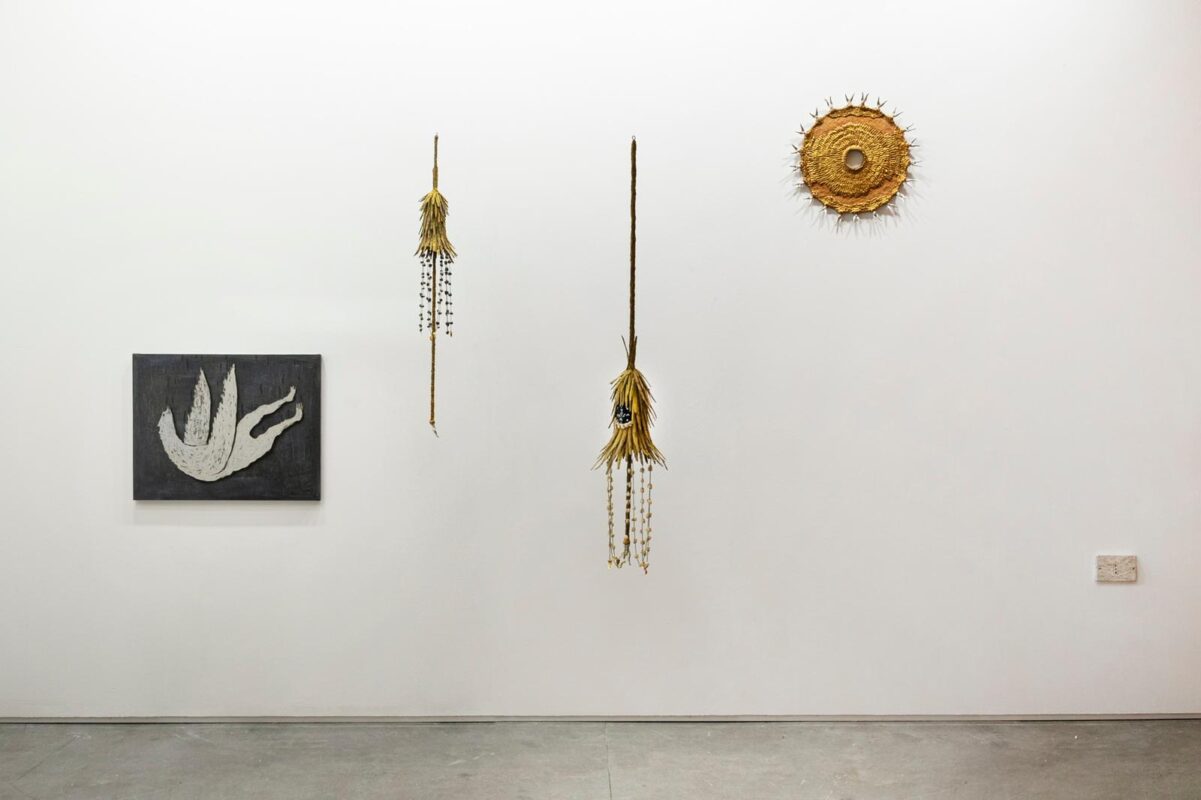 installation view
Andreas Zampella, Stanza con finestra, 2023
oil on canvas, 29×32 cm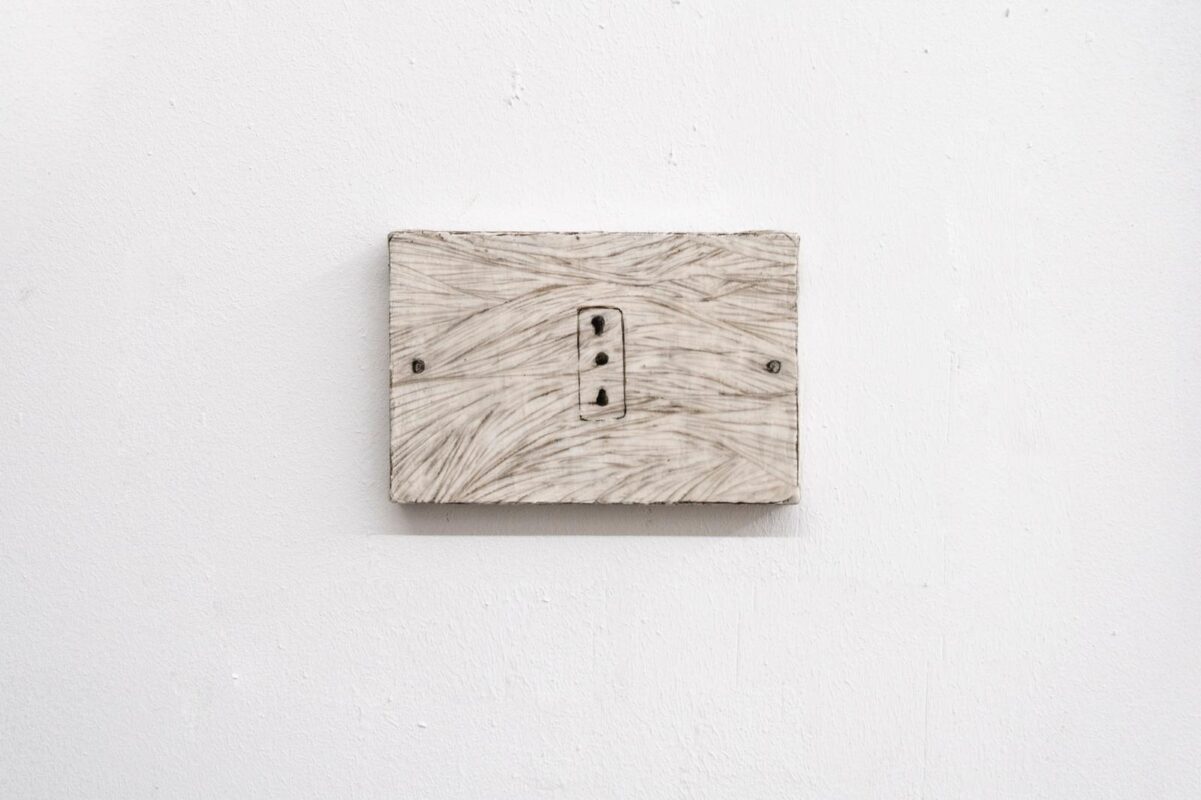 Andreas Zampella, Presa velata, 2023
clay, enamel and oil on canvas, 10×15 cm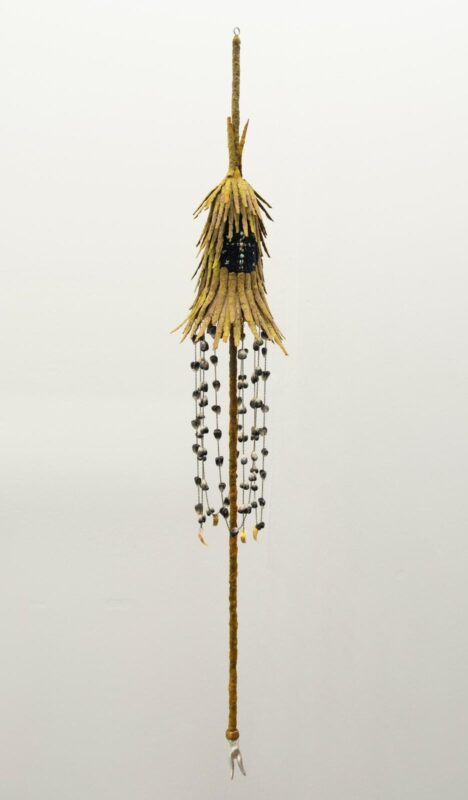 Maria Positano, Vessel in Green III, 2023
cast & oxidized paper pulp, velvet, embroidery, chains, corn beads, brass, steel, gold wax, 12x12x120 cm
Maria Positano, Sprouting in Green (with fabric), 2023
paper pulp, corn beads, chain, velvet, pewter and epoxy clay, 75×22 cm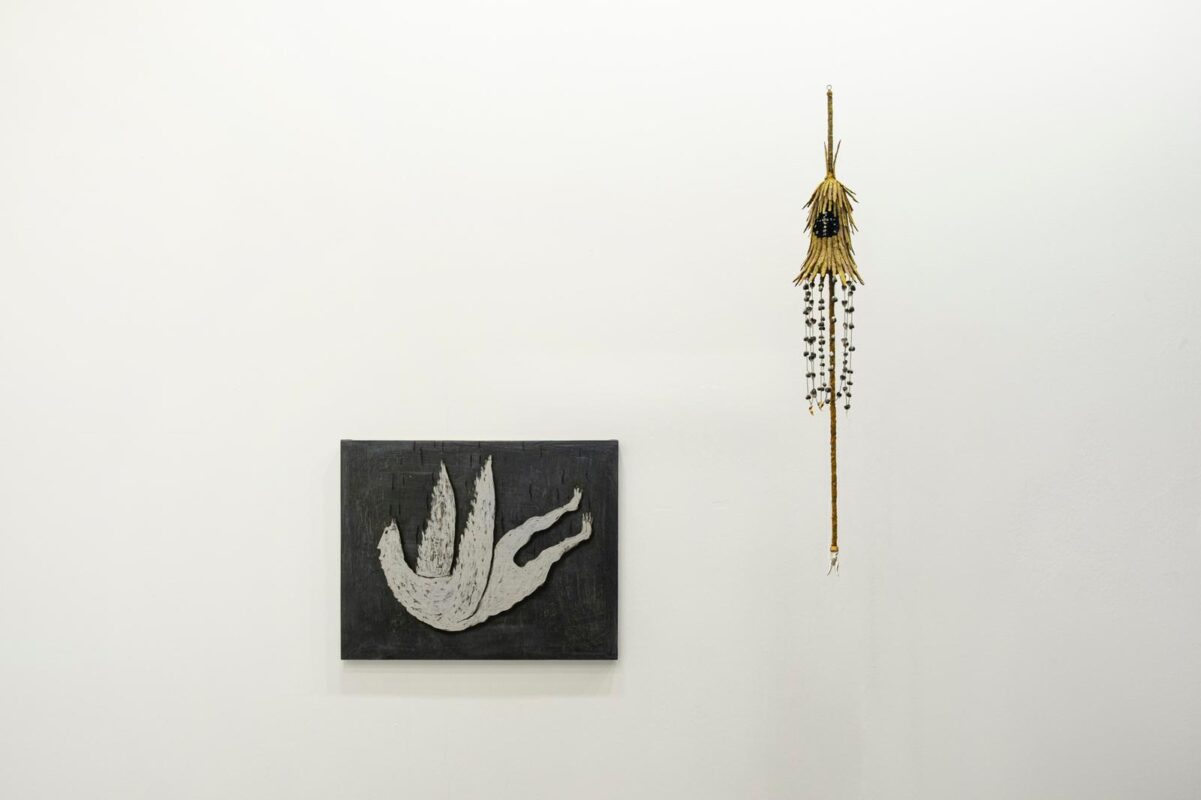 installation view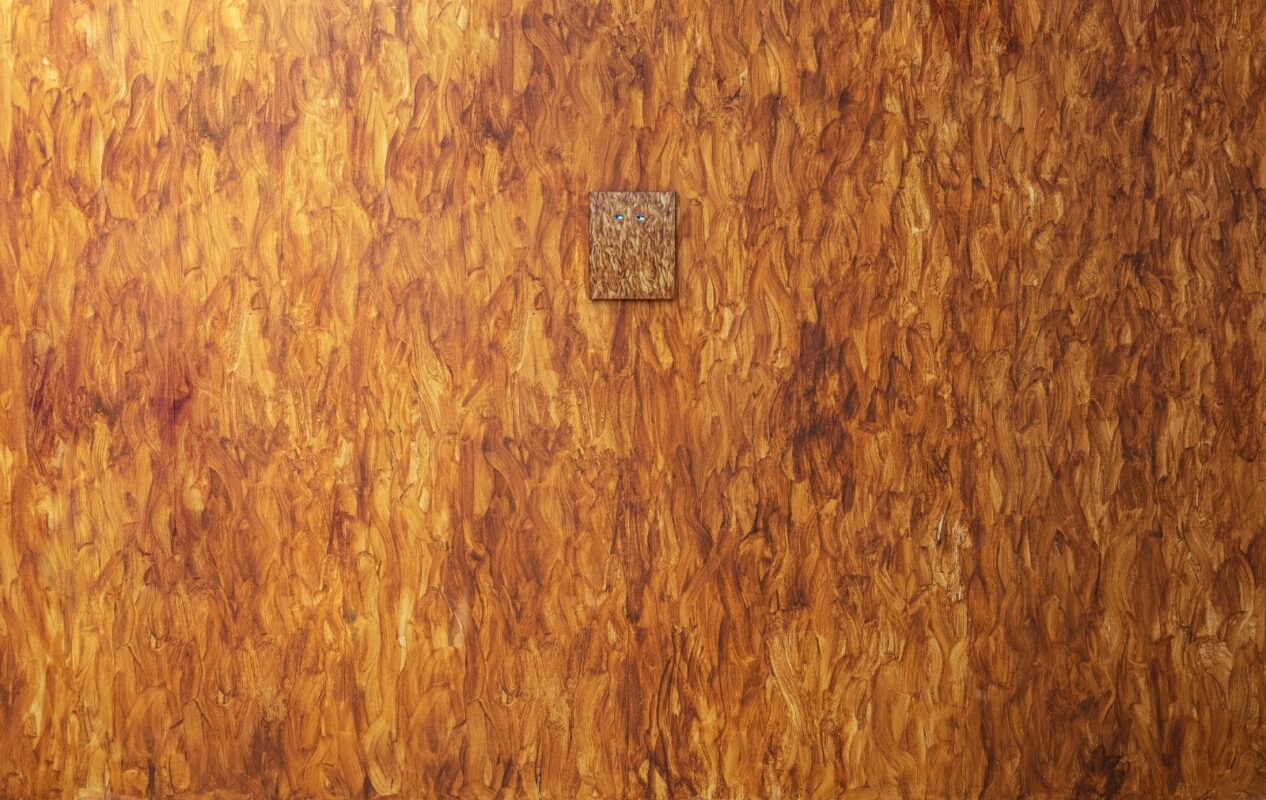 Andreas Zampella, Sguardo dal fuoco, 2023
oil on canvas, 24×20 cm
installation view
Andreas Zampella, Uccello d'argilla, 2023
clay, graphite and oil on canvas, 55×69 cm